Vancouver Film School Animation and VFX Campus is proudly introducing the Summer 2019 EPIC: Intensive! With six teachers more than 8 days, this is the most EPIC: Intensive yet!
EVENT Schedule:

17th (Sat) – Tracy Burns 10am-6pm

18th (Sun) – Shawn Kelly 10am-6pm
19th (Mon) – Daniel Klug 10am-6pm
20th (Tues) – Michal Makarewicz 10am-6pm
22nd (Thurs) – Michal Makarewicz 10am-6pm
23rd (Fri) – Michal Makarewicz 10am-6pm
24th (Sat) – Victor Navone 10am-6pm
25th (Sun) – Rachelle Lambden 10am-1:30pm / Lunch / Michal Makarewicz 2:30pm-6pm
1 ticket gets you access to the entire event!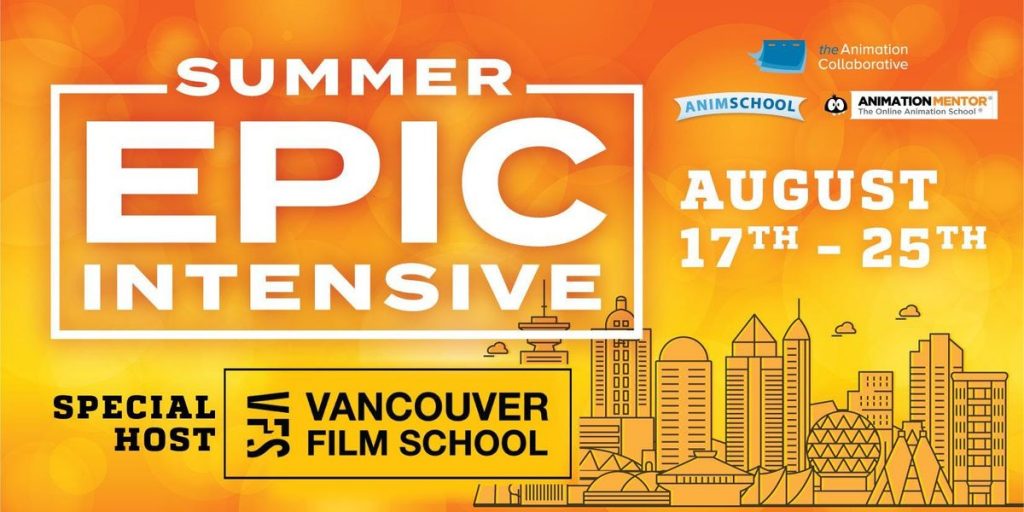 THE INSTRUCTORS and their presentations:
Performance Consultant
Better Acting = Better Story
In this class, Tracy provides acting techniques that are immediately usable and directly applicable to animators; nothing precious and nothing arcane. Participants will learn how to define the character's objectives, obstacles and actions, avoid clichéd physical gestures and shoot reference more effectively.
---
Shawn is a Co-Founder of Animation Mentor and a Lead Animator at ILM / Lucasfilm where he has been animating for 22 years.
12 Principles of VFX Animation
"As with any animation style, VFX animation has its own rich set of techniques as well as pitfalls to avoid. Today, we'll talk about 12 Principles of VFX Animation, covering everything from working with a live-action camera to fight choreography, from subtle facial animation to complex creature work, and everything in between!"
---
Animator/Supervisor – Walt Disney Feature Animation Studios.
Daniel will share the Pro-Tips he's learned while making his way through the industry, how to set yourself up for success and make your shots stand out, and what he believes is a secret animation principle.
---
Is an Annie award-winning, 16 years Pixar veteran lead Animator, and Co-Founder of the Animation Collaborative.
Michal will be giving in-depth Lectures on animating Eyes, Brows, Polish, Graph Editor, Performance and Acting, Multiple Workflows (with shot breakdowns) along with animating an Acting shot demo, LIVE in Maya.
---
Supervising Animator at Pixar Animation Studios, an instructor at The Animation Collaborative. Annie Nominated and awarded by Visual Effects Society for his work on WALL-E.
"Acting for Animation" – a day-long exploration of how to achieve greater depth and specificity in your animated characters and performance choices.
---
Stop Motion Character Animator at LAIKA / Animator on four Oscar Nominated feature films.
Join LAIKA stop motion animator Rachelle Lambden as she discusses her career path and origins from theatre into animation. From a stop motion perspective, she covers the process of character development and the breakdown of a shot from start to finish. Using examples from her work from Frankenweenie, ParaNorman, The Boxtrolls, Kubo and the Two Strings and Missing Link, she will focus on the subtleties of acting in animation.
---
AGE RESTRICTIONS
Attendees must be over the age of 18.
RECORDING
A pen and paper are recommended for taking notes. Laptop/tablet computers are permitted, but please no recording with these or other devices. NO AUDIO OR VIDEO RECORDING OF THE PRESENTED MATERIAL OF ANY KIND IS PERMITTED. Out of respect for fellow attendees and the instructors, we ask that attendees please refrain from live-tweeting, texting, phone calls, etc. during the class.
Also Read: Super Man – Red Son: New from DC Animation
QUESTIONS?
Please contact The Animation Collaborative at staff@animationcollaborative.com