Rising – The Walt Disney Story
The Walt Disney Story is very inspirational. Walter Elias Disney was born on December 5th, 1901, in Chicago, Illinois. Walt is the fourth of 5 children. Elias and Flora Disney were their parents. His childhood set apart by economic hardship; his dad was always changing from one job to another. He spent his childhood on a farm, in a village of Missouri. There, he lived surrounded by nature and animals. His mom would read classic tales to him, and that's when his interest in drawing started to grow inside him.
In 1909, his dad got sick, and the whole family had to move to Kansas City. During that time, Walt was selling newspapers and occasionally making some money with his caricatures. He enrolled in the Kansas City Art Institute, where he learned his first notions about drawing techniques. It was then, during those teenage years when he discovered the cinema – an invention, he was passionate about since the very beginning.

In 1917, he went back to Chicago with his family, and in 1918, he faked his birth certificate and enlisted at the age of 17 in the Red Cross to fight in WWI". He made it to Europe when there was peace already, but he was based on France and Germany until September 1919.

When he got back, he found a job at an advertising agency, where he met Ubbe Iwerks (UB Iwerks) a talented cartoonist, who would become his partner in all their adventures throughout years. They together decided to create their own company of animated films. However, they had to close it down soon after because of the financial failure of one of their most important clients.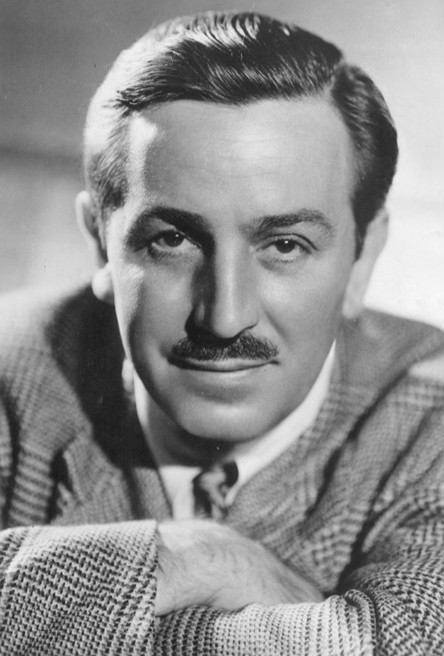 Disney Brothers Studio – The Walt Disney Story
In 1923, Disney decided to move to Hollywood. However, the film industry didn't welcome Disney as nicely as he had expected. So he decided to create his own animation business with his brother Roy. In October 1923, Disney Brothers Studio was created. A year later, Ubbe Iwerks joined the company, and Walt could stop working as an animator to dedicate his time to the task he had always been more qualified for: the creation of characters, plots and directing.
In 1925, Walt married Lillian Bounds, a young worker of the studio, with whom he had two daughters: Diane Marie, born in 1935, when the couple already thought they could never have children, and Sharon Mae (mei), adopted in 1936.
In 1926, they moved to bigger studios, and they changed the name to Walt Disney Studios. Everything seemed to be going full steam ahead. However, the company suffered a severe misfortune when its most crucial client took over the rights of Oswald the Lucky Rabbit. This character, created by Disney, had been the protagonist of the most famous short films of the studio.
In 1928, convinced not to fall into a similar trap, they looked for a new character. Designed by Iwerks and using Walt's voice, Mortimer Mouse came to the world, who would soon be renamed as Micky Mouse.
A star had been born. Mickey Mouse turned into a success in no time. Walt, always on the lookout for innovation, hurried to incorporate sound in the Mickymovies, and in November 28th Steamboat Willy was released – a total success for both the public and the critics.
A workaholic himself, Disney had a series of health crises that led him at the end of 1931, to go on a long vacation to Europe with his wife. There, they were influenced by European arts. Back to Hollywood, he joined a sports club where he practised boxing, wrestling and golf. Soon after, he discovered horse riding, and finally polo. He was a big fan of polo for the rest of his life – a hobby as essential for him to as his passion for trains and miniatures.
First full-length cartoon film
Always supported by a team of excellent cartoonists and illustrators, Disney let all his creative spirit do its work in his first series of Silly Symphonies (1932), created in technicolour. They were the reason why he got the beginning of the 26 Oscars he would receive throughout his whole career.
In 1934, Micky was already surrounded by Minnie, Pluto, Goofy and the short-tempered and wicked Donald Duck. When he had already built a name in the Hollywood industry, Walt Disney decided to produce the first full-length cartoon film in the history of movies – SnowWhite and the seven dwarfs(1937).
This movie was a total success, but if left Disney in debt for almost the rest of his life. The film was inspired by the Grimms brothers tale, the first of many adaptations of these classic tales that fascinated Walt so much. After Snowwhite came to Pinocchio, it was a triumph with critics, but a failure with the public. The company recovered thanks Dumbo the elephant and the touching Bambi, during the times marked by WWII.
It was then that Walt Disney, a convinced anti-communist, filmed pro-capitalism Propaganda Movies and started collaborating actively with the FBI in witch hunts, promoted by the senator Joseph McCarthy.
In the 50s, with the help of an investment from the Texan Howard Hughes (jiús), Disney released some of the most acclaimed classics in the history of animation: Cinderella (1950), Alicein Wonderland (1951) and Peter Pan (1953).
In December 15th 1966, after making a dream come true by constructing Disneyland, a vast amusement park based on his characters, The Burbank magician died due to lung cancer, this was only a few months before The JungleBook was released. Same as his movies, Walt Disney himself is surrounded by legends, since the minute he was born, till his death.
There's a rumour that says Disney was born in Spain, specifically in Mojácar, and emigrated when he was a kid with his single mom to the US.
Is Walt Disney's body frozen? – The Walt Disney Story
We can't forget about one of the most spread urban legends in the world: Is Walt Disney's body frozen? Hmmm nope. Disney died at the St. Joseph's Hospital and his family had a close funeral for him so that only a few people could see his body, hence the legend. Two days after his death, he was cremated and moved to their family cemetery.
You may also like to read: Walt Disney's Multiplane Camera: Illusion King
Walt Disney was a complete pioneer, and his movies meant a turning point in the history of cinema. His legacy is still growing, and his more than 100 full-length movies are always enjoyed all around the world!. this is all about Walt Disney Story, Please do comment and let us know what you think.