A tribute to Mr Richard Williams (March 19, 1933 – August 16, 2019) was a Canadian–British animator, best known for serving as animation director on Who Framed Roger Rabbit (1988).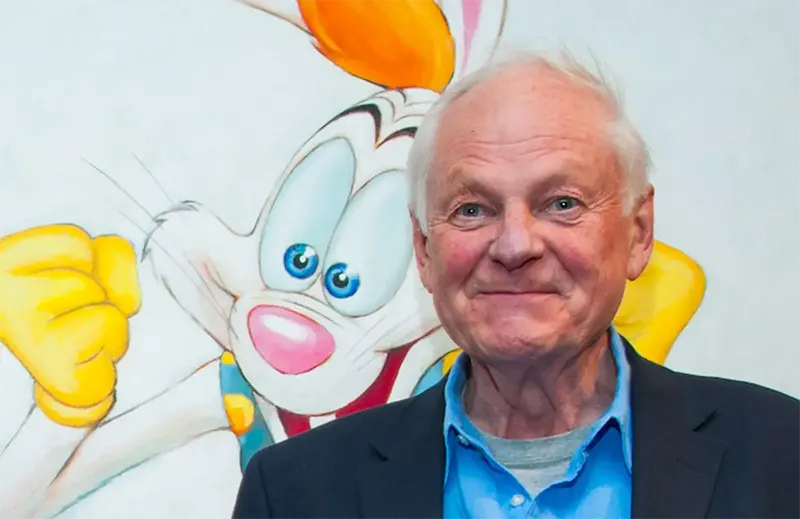 A businessman who worked for Brigden's, a printing and design company in Toronto. Williams was educated at Northern Secondary School, Toronto, and later at Ontario College of Art. Helped by his stepfather, who had connections in the advertising industry in Toronto, Williams was already earning a living as a commercial artist at age 16.
Age 15, Williams travelled to Hollywood from Toronto on a five-day bus trip, where he took the Disney studio tour three days running, each day breaking away from the guide to seek out the studio animators, and being ejected from the studio lot. His persistence paid off as, eventually, the studio relented, and he was able to meet the animators, who showed him how the Disney animation process worked. 
Williams left Canada and emigrated to Ibiza, where he became a painter, finding inspiration in the clowns and performers at a local circus. These sketches eventually became the short film Circus Drawings, completed almost 50 years later, in 2010.
At the same time Williams began drawing storyboards for an animated film about three misguided idealists. In 1955, aged 22, Williams left Ibiza and moved to England, where he began working at fellow Canadian George Dunning's company T.V. Cartoons Ltd., working mainly on television commercials. In 1958 he completed the film that launched his career and won the 1958 BAFTA Award for Animated Film, The Little Island.
In the 1983 Thames Television documentary The Thief Who Never Gave Up, Williams credited animator Bob Godfrey with giving him his start in the business, "Bob Godfrey helped me…I worked in the basement and would do work in kind, and he would let me use the camera…[it was] a barter system".
In the early 1960s, Williams established his own company, Richard Williams Animation, which completed over 2,500 TV commercials, and won numerous awards, at its home at 13 Soho Square. In 1962 he completed his first commercial success, the short film "Love Me, Love Me, Love Me" narrated by Kenneth Williams. In 1966 a television documentary, The Creative Person, was made about his life and work. In 1967 he completed the short film The Sailor and the Devil, mainly animated by the illustrator Errol Le Cain. In 1968 his studio won accolades for the animated segments in Tony Richardson's epic feature film about the Crimean War, The Charge of the Light Brigade (1968). [
In the late 1960s and early 1970s, Williams hired and brought to London a number of the great Hollywood animators from the 1930s, elderly men who were by then nearing retirement. These included Art Babbitt (Goofy), Grim Natwick (Betty Boop), and Ken Harris (Wile E. Coyote}. Babbit, in particular, gave masterclasses at 13 Soho Square, training a new generation of animators. [
In 1971 Williams directed the Academy Award-winning A Christmas Carol, an animated adaptation of Charles Dickens's 1843 novella. [The film was broadcast on U.S. television by ABC on December 21, 1971, and released theatrically soon after. In 1972, it won the Academy Award for Best Animated Short Film.
In 1977 he directed the full-length feature Raggedy Ann & Andy: A Musical Adventure (1977) and, in 1982, the Emmy-winning television film Ziggy's Gift.
Also Read: The Walt Disney Story
He was director of animation on Who Framed Roger Rabbit (1988), winning two more Oscars for his work.