ThinkReality A6 AR Headset: Lenovo is continuing its expansion into new, unexpected categories outside of its PC business and on May 13, 2019, the company announced it's launching a new AR-and-VR system targeted at businesses. It's called ThinkReality A6.
ThinkReality A6 is a lightweight, head-mounted AR device targeted at business and enterprise customers. It is designed to help enterprise workers use AR applications to receive assistance, reduce repair times, fixing errors, streamline complex workflows, improve training quality, collaborate and save money.
The ThinkReality A6 headset is powered by a Snapdragon 845 SoC processor alongside an Intel Movidius VPU and Lumus Waveguide optics. Users get Full HD 1080p resolution per eye with a 40-degree field of view, plus there's support for interacting with the device via a combination of gestures, voice, and gaze. Alternatively, users can use a 3DoF hand controller. The ThinkReality A6 is built on Android Oreo, according to Lenovo, which has also packed a 13-megapixel camera, VPU, depth sensor, inertial measurement unit, and a pair of fish-eye cameras into the headset. Users can expect up to four hours of operation while using the headset with its removable 6800mAh battery. Wearing the device for long periods of time shouldn't feel burdensome thanks, in part, to the 380g / 13.4oz weight.
from the looks and description of the device and platform, it looks like a competitor for Microsoft's HoloLens.
ThinkReality A6 headset Specification: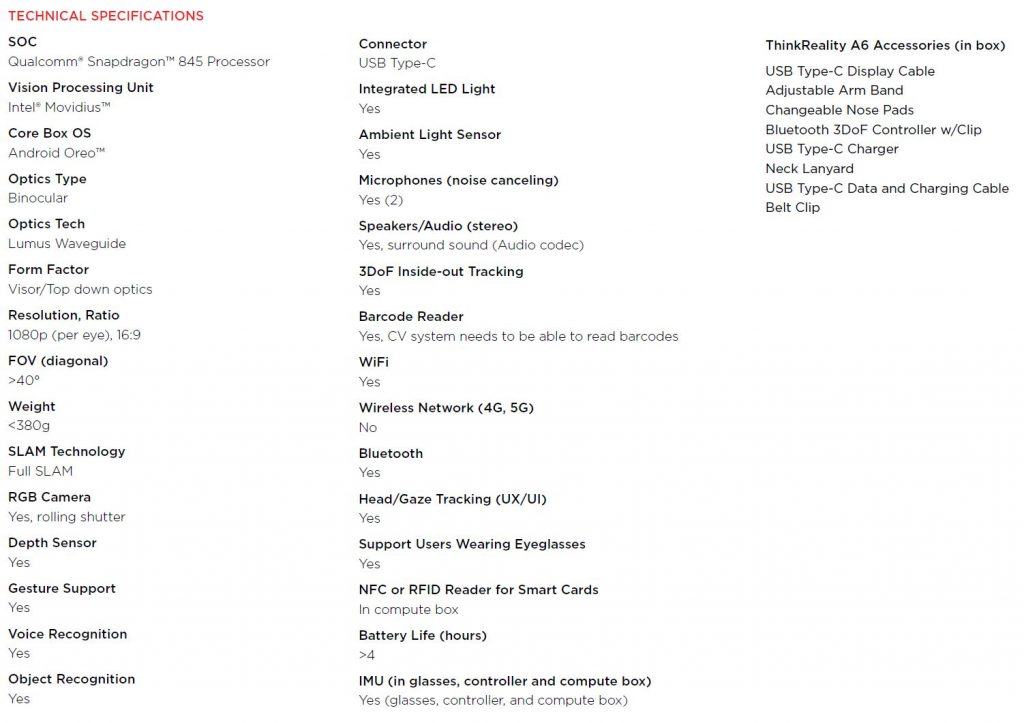 Pricing and availability of the ThinkReality A6 is not yet available, with Lenovo instructing customers to contact their sales representatives for more information.
You may also like to read: HoloLen 2: Awesome Gadget for Designers/Developers